Colin Eckstrand has written a memoir called My Magical Experiences as a Small-Town Boy. It is comprised of tales of heartache, perseverance, and wondrous joy and it details the incredible events of childhood and youth on the west coast of Canada.
In addition to offering optimism, hope and inspiration, Colin, a Canadian Baha'i, hopes it introduces readers to the teachings of the Baha'i Faith.
Here's what Colin shared about his book:
Can you tell us a little about yourself?
I was born in Powell River, British Columbia, Canada. The population is about 15,000. It is a small, more isolated town as it has two very long and wide inlets to cross to get from Powell River to Vancouver. One has to take two ferries then to go to Vancouver. Also if one wants to go to Vancouver Island, which is often the case, a ferry is required for that. Growing up there one finds a strong connection with others who live there or who have lived there. I moved to Victoria, BC, at age 20 though I have lived in Chemainus since 2018. I have been married to Marilou for nine years and have two adult daughters, Crystal and Erica. Crystal is the mother of my two grandchildren.
Can you tell us a little bit about your book?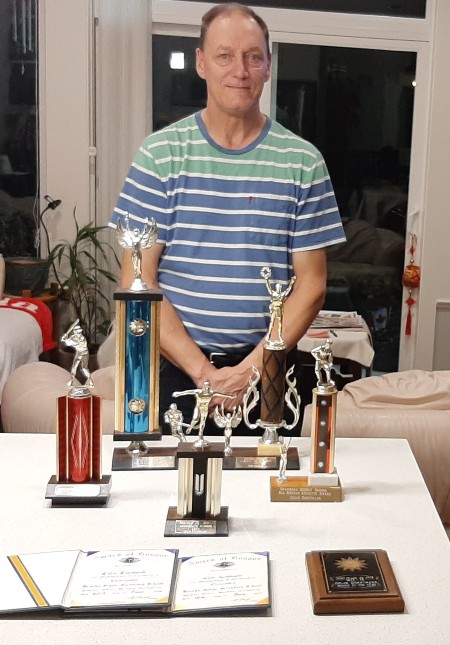 There are two dozen events in my life that I consider peak experiences; accomplishing something that seems almost superhuman, and that very few people can duplicate. This is my record of the many inspiring, amazing, true-life experiences I have had throughout my life as a boy growing up in the small town of Powell River on the west coast of British Columbia. These stories are particularly about the sports that I played, the lessons I learned, and my journey towards a more spiritual way of life. I strove to reach high in life, pursuing my goals and to be joyful as much as possible, even through some times tested me.

I am sharing my magical experiences as a small-town boy with the hope that those that may need a little inspiration can find it here. The aim of this book is to inspire, it is insightful yet entertaining and humorous at times. It offers glimpses into my life, showing heartache, perseverance, and wondrous joy. One important message that can be taken from my story is that even coming from a sometimes sad and challenging place in life, one can strive and still achieve meaningful goals and live a fulfilling life with many cherished memories.
What inspired you to write it? What is it about?
By the time I was 20 years old I had around two-dozen extraordinary events occur in my life. Most up until then were athletic accomplishments. I had come through a fair degree of challenging times as well and I recognized the value of never letting go of the notion that our spirits are noble, even at a young age. In the end the universal law of karma will balance things out for those who may have really hurt us unjustly and also reward those who strive to take the high road more frequently than not. I feel strongly that the true stories depicted and the words of guidance offered can help uplift one's spirit and offer beneficial advice. The book is well suited in this area for youth as much of the book's setting is in my youth. The book, from my youth to a much older adult, depicts a grace of the divine nature assisting me in the goals I pursued, both outward goals as well as inner spiritual goals related to self-improvement.
What was something you learned in the process of writing this book?
I learned first hand what the grace and power of God can do through an individual, particularly when making a habit of reaching out for divine assistance every day. I have utilized all the tools, inner and outer, at my disposal to write this book as my proclamation service project dedicated to Baha'u'llah, humanity and Mother Earth. I have now witnessed so many personal confirmations of divine assistance that it has only emboldened me further to continue in this line of service.
Who is its audience? What do you hope your readers will take away with them long after they've finished reading it?
In the first six and a half months 189 copies have been purchased and many libraries now carry the book. The audience has primarily been people associated with the town of Powell River but as media attention has grown the audience has expanded internationally but not in a big way, yet. The audience for my book should be appealing to youth but most who have read it so far are adults. The feedback has generally been quite positive. The book has 20% Baha'i content and serves as a very good introduction to the Baha'i Faith for many. I hope the readers come away with a feeling of confidence, that by striving to take the high road in life, spiritually speaking, that it is the best path to take. One does not need to necessarily sacrifice goals that are even material in nature, it is the ultimate win-win path in life, balance is a key.
Thank you, Colin, for taking the time to share this with us.
You can purchase My Magical Experiences as a Small-Town Boy from Amazon.
Posted by
In her innermost heart, Sonjel is a stay-at-home parent and a bookworm with a maxed out library card but professionally she is a museologist with a background in English Literature. She currently lives on Prince Edward Island, an isle in the shape of a smile on the eastern Canadian coast. Sonjel is a writer who loves to listen to jazz when she's driving at night.